Frederik ERDMANN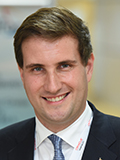 Moderator and contributing correspondent Shippax
Frederik Erdmann has been a correspondent to Shippax since 1996 and professionally been involved with shipping since 1999 when he joined the German port agency network, Sartori & Berger, for a vocational training program. After his graduation as Shipbroker & Liner Agent and subsequent studies of Business Administration, Frederik held various positions with Sartori & Berger until 2010. After a period of working for the Flensburg Chamber of Commerce, he was appointed Designated Person Safety/Security, Environment and Quality of the German coastal ferry operator, Wyker Dampfschiffs-Reederei, in January 2015. Alongside this position, he continues contributing to shipping publications in the UK, Sweden, Greece and Germany as a correspondent, and he also teaches prospective nautical officers as visiting lecturer of the Flensburg University of Applied Sciences.
As his hobbies, Frederik lists being a voluntary firefighter both in his home village and in the district Hazmat Unit. He is moreover a keen motorcyclist. Eventually, Frederik has – beyond his professional activity – a great personal passion for ferry shipping, in particular for the history of Greek and Balearic operations as well as 'classic' ferry designs built in the 1970s. He is married and lives near Flensburg (Germany).
Bruce DICKINSON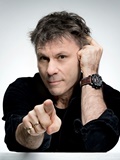 Businessman, Pilot and Lead Singer of Iron Maiden
An entrepreneur, creative business thinker, commercial pilot and brewmaster, in addition, of course, to being the lead singer of Iron Maiden, Bruce is a true renaissance man. Bruce is chairman of a company called GoldiLOx Space, a commercial astronaut training company, and Vice-Chairman of Pouncer, a drone designed to aid famine relief around the globe. He is also the man behind Caerdav (formerly Cardiff Aviation), which specialises in heavy maintenance of Airbus and Boeing commercial aircraft and the training of pilots. Bruce's passion for aviation keeps him flying a variety of aircraft, amongst his other ventures.
Bruce delivers world class speeches where he compares the challenges of operating in the world of rock music and commercial aviation with those in the business world; from teamwork, forward planning and the ability to learn from setbacks and move on successfully. He focuses on turning customers into fans – with information going viral all the time, which speaks volumes for business, with customers being loyal to a brand. Bruce enjoys the thrill of creativity and refreshes this spark in audiences across a range of business topics.