Philippe HOLTHOF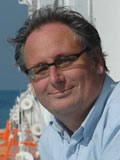 Lead moderator and Senior Advisor & Editor-in-Chief Shippax
Philippe was born the son of a master mariner who commanded ferries of the Ostend-Dover Line. This accounting for an early interest in the maritime industry in general and ferries in particular, Philippe soon started to collect data and with his first pocket money took up travelling on ferries all over Europe to study the ships, their operators and ports.
After completing an education in (maritime) logistics management, he embarked on a career as a freelance author and started to write for Shippax in the mid-nineties. The work for Shippax has seen Philippe travelling on a wide variety of ferries and interviewing many decision makers in the industry. This culminated in Philippe being appointed senior advisor at Shippax and, more recently, also taking up the position of editor-in-chief.
A member of the DNV GL Ferry Committee, Philippe is also a guest lecturer at the Thomas More Institute in Mechelen, Belgium, for a bachelor's degree course in tourism.
Frederik ERDMANN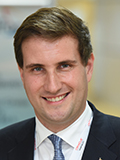 Co-moderator and contributing correspondent Shippax
Frederik Erdmann has been a correspondent to Shippax since 1996 and professionally been involved with shipping since 1999 when he joined the German port agency network, Sartori & Berger, for a vocational training program. After his graduation as Shipbroker & Liner Agent and subsequent studies of Business Administration, Frederik held various positions with Sartori & Berger until 2010. After a period of working for the Flensburg Chamber of Commerce, he was appointed Designated Person Safety/Security, Environment and Quality of the German coastal ferry operator, Wyker Dampfschiffs-Reederei, in January 2015. Alongside this position, he continues contributing to shipping publications in the UK, Sweden, Greece and Germany as a correspondent, and he also teaches prospective nautical officers as visiting lecturer of the Flensburg University of Applied Sciences.
As his hobbies, Frederik lists being a voluntary firefighter both in his home village and in the district Hazmat Unit. He is moreover a keen motorcyclist. Eventually, Frederik has – beyond his professional activity – a great personal passion for ferry shipping, in particular for the history of Greek and Balearic operations as well as 'classic' ferry designs built in the 1970s. He is married and lives near Flensburg (Germany).